 Centre Talk
19 November 2023

Friday 1 December - End of Semester Two
Saturday 2 December - Clean Up Day


8, 11, 15, 18, 22 & 25 Jan - Summer in the Centre
Tue 30 Jan to Tue 6 Feb -
Online Enrolments
Tue 30 Jan to Fri 2 Feb -
In-person Enrolments
Monday 12 February - Classes begin
You might like to know...
Centre Talk has survived its transition to its new Editor in 2023, and from all reports is popular with its audience. There has been positive feedback and nothing negative – so far! It is distributed to approximately 1,851 subscribers via email. It is also viewed on the KCLC website and through our Facebook page which has 956 followers. A print version is also available at the Reception Desk. With the magic of the internet we can see how many people actually read it and that's fewer than we hoped for, so please spread the word.


There will be one more edition around 3 December when the winner of the Mystery Prize for the Semester Two Quiz will be announced.


Margaret, Bronwyn and the rest of the Enrolment Team have worked very hard to bring us the 2024 Timetable for you to think about over the break. Check out the exciting new courses being offered. The pics above give a hint of what's coming. More below.


From the Executive...
We had a very successful General meeting on Friday which was well attended. We were able to pass the By Laws with a few minor changes in spelling and clarifications. Everyone who was asked gave reports on how their Workgroup was going and we learned a bit more about how well this Centre is run. Rosemary, once again, organised a light lunch with contributed goodies and these were eaten while the meeting went on and afterwards. Cleaning up was swift and efficient.


This is very handy as it keeps local people informed of any fires likely to affect us and if the fire rating is Extreme or Catastrophic. Total Fire Bans are also included.


Summer in the Centre
We are pleased to say that we will have Summer in the Centre in January. Anne-Marie will run it with the aid of a few willing helpers. See below for full details.


(If anyone has any tea towels they would like to donate to the Centre, they would be gratefully received. We seem to be running very low on them and there is the Thank You Dinner coming up which uses a lot.)


Your coordinators, Bridget with Annie and Anne-Marie
Important Enrolment Dates for Semester One 2024...
Online enrolments will open at 9.30am on Tuesday 30 January until 12.00pm on Tuesday 6 February.


For those needing assistance with the enrolment process, in-person enrolments will open Tuesday 30 January to Friday 2 February from 9.30am to 2.00pm at the Kalamunda Community Centre.


Members who will be unable to enrol online or in person during the enrolment period may submit a Postal Enrolment form. Ask at the Reception Desk for the conditions and a form or a copy of the form can be downloaded from our website.
Classes start on Monday 12 February 2024.
Now you just need to decide what course to enrol in!
Please click here to view the Semester One 2024 Timetable.


Please click here to view the Semester One 2024 Programme.


You can also use the search functions on the Centre's homepage to find the courses that will be on offer in Semester One 2024.
Some new courses to check out are:
Further enrolment details will be sent out closer to enrolment time (and please note that course details may change right up until enrolments open).


Bronwyn - Assistant Registrar
Painting Workshop
Wednesday (all day)
Here is a venue to paint with like-minded artists in a mutual self-help environment. Artists use oil, acrylic, watercolour, scratchboard, pencil or pastel etc. Artists, current and aspiring, experienced or not using any and all mediums are welcomed!
Class News...
Yoga and Relaxation
The group is enjoying a lovely second semester with our accomplished tutor Suzie. We're a motley crew and our classes allow us each to gently work on our stretches, balance and strength, utilising a variety of poses and flowing movements. We start and end our sessions with guided relaxation and meditation. The main hall is a beautiful space for yoga with the treetop views, birdsong and fresh air from the louvred windows, complementing our experience. Each Monday session is a perfect way for us to start the week.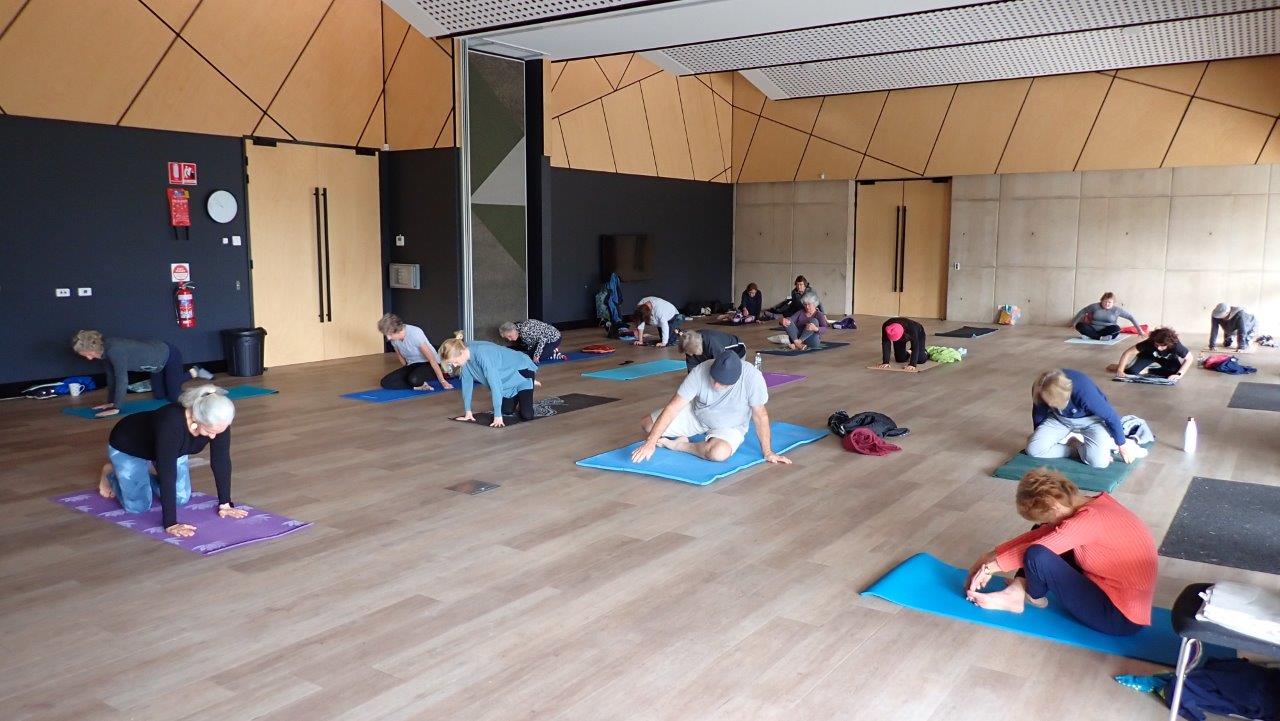 Classical Guitar Workshop
We are a group of six members. We play a variety of music pieces including classical and Spanish styles and some Beatles favourites. In the process we learn from each other, laugh at ourselves and benefit from the joy of making music; as well as enjoying some memorable afternoon tea treats.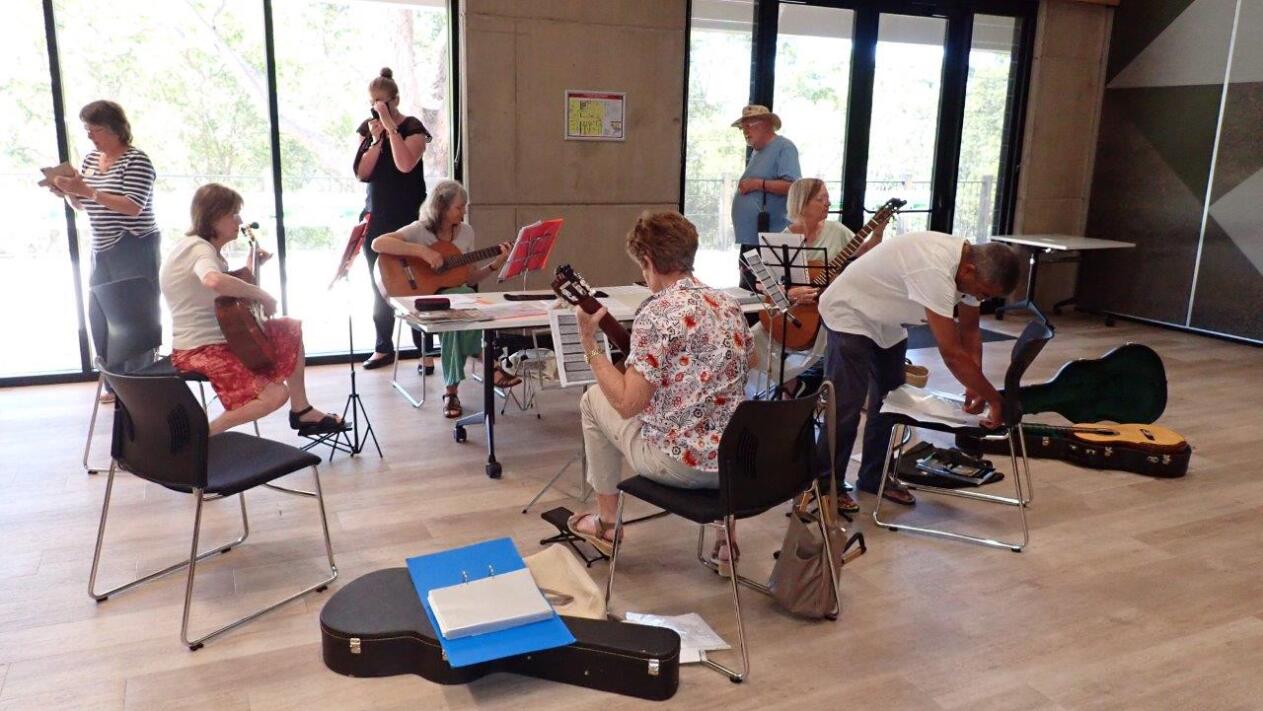 Vacancies...
You may have noticed some of the pleas for help on the noticeboard recently. We are in desperate need of some workgroup leaders for the start of next Semester and also some executive positions (Coordinator, Programmer and Secretary) that are nominated at the June AGM. While this all seems a long way off, it would be ideal if we had people volunteering now to learn the ropes, especially for the executive positions.


We have created a Vacancies page on the website to provide a list of all the current vacancies so please take a look and see if there is anything you might be able to put your hand up for.


Taking on the role of Editor of Centre Talk this year has been fun and given me the opportunity to meet new people and learn much more about the Centre and its growth, since I first attended in the early 1990s. Accepting one of the vacant positions provides a chance to share, learn new things, make new friends and expand horizons in a very supportive environment.
Housekeeping...
Lost Property
If any of these items pictured below belong to you, please call in to Reception to claim your item. Any items not claimed by the end of the Term will be donated to a local Op Shop.
Testing and Tagging...
All appliances that are plugged in at the Centre must be tested and tagged by an electrician.


During the Semester One enrolment week, an electrician will be offering this service at $5 per item. He will be available from Wednesday 31 January to Friday 2 February, 9.30am to 12.00pm.


The cost for appliances that are used by tutors to present their courses will be paid by the Learning Centre.
Summer in the Centre...
Summer in the Centre is back this January!


Join us for Summer in the Centre running every Monday and Thursday from 9.30am to 12pm from Monday 8 January until Thursday 25 January 2024.


You can bring in your knitting, sewing, craftwork, painting, games, reading or laptop etc., or even just yourself to enjoy the company. We will have air conditioned rooms available for members to use.


Tea and coffee will be provided and the cost is just $5 per person for each session. Booking is not required (please just bring in the exact money in cash as we will have limited change available).


Unfortunately no creche facilities will be available for these sessions.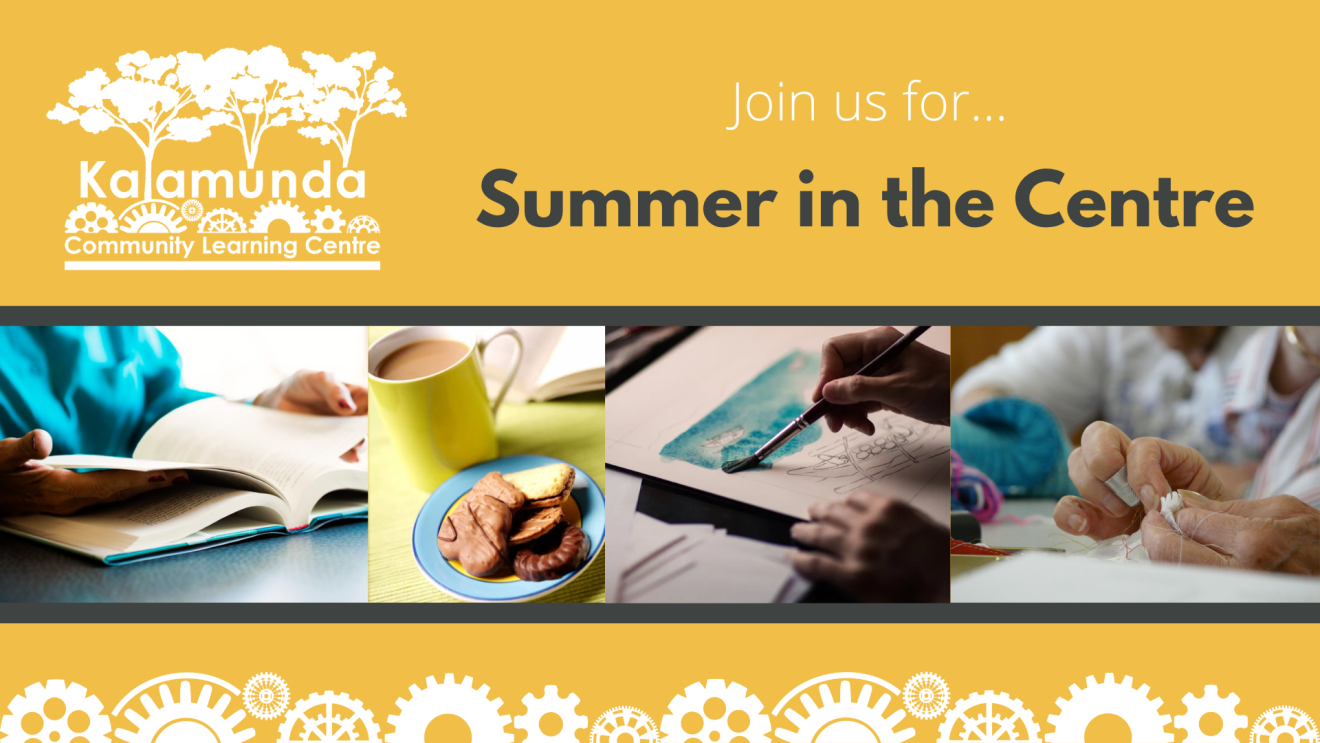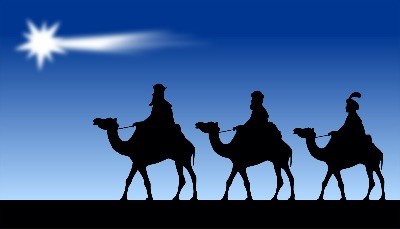 Sharing a Hills Christmas Inc...
'Sharing a Hills Christmas' is now in its 29th year providing food hampers and gifts to families and individuals in the Kalamunda region who are going through difficult times.

In 2022 that amounted to 271 food hampers for families and 201 parcels for nursing home residents; altogether over 1,000 gifts and a lot of food. This year, they anticipate that the need will be even greater. You are all invited to be part of this local community initiative which brings together the local churches, schools, businesses, and community members.


We welcome donations of gifts and food items which can be placed in the box at the reception desk during the last week of the semester, Monday 27 November to Friday 1 December. You might also like to assist during our packing week (12 – 15 December) as they sort, wrap, pack and deliver all the hampers. A leaflet outlining tasks and times, will be available at the desk or click on this link.


Sharing a Hills Christmas Inc has become an integral part of the community's Christmas celebrations. We invite you to be a part of the blessing.
Joke...
Fred was sitting at the bar staring at his drink when a large, aggressive bikie grabbed his drink and swigged it down...


He stared at Fred with his hands on his hips and said, "Well, whatcha' gonna do about it?"


Then Fred burst into tears.


"Hey Man", the bikie said, "Watcha doin'? I can't stand seein' a man cryin."


"This is the worst day of my life", Fred said. "I'm a total failure. My boss fired me. Then my car was stolen from the work car park and I don't have any insurance. I left my wallet in the taxi I took home. Then I found my wife in bed with my best friend and then my dog bit me."


"So I came here to get the courage to end it all. I buy a drink, I drop a tablet in it and watch the poison dissolve; then you show up and drink the whole thing! But enough about me, how're you going?"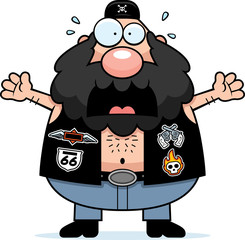 What's the Catchphrase?
How's your lateral thinking skills? Try these out! Each box contains a clue to a commonly used catchphrase.
The winner was Mal B who goes into the draw for the Semester Two Mystery Prize. This is the last Quiz in the competition for the year. The winner of the prize will be announced in the last Centre Talk for 2023 to be published around 3 December. Thanks to all who responded during Semester Two.