 Centre Talk
22 October 2023

Friday 10 November - The Centre Presents
Friday 17 November - General Meeting
Friday 1 December - End of Semester Two
Greetings!
We're now well under way in Term 4 with the end of the year looming.


Like most of us, if you are pondering how to keep safe on the Internet, don't miss Roger's special talk on the subject on Friday, 10th November. He has a wealth of knowledge to impart and much experience in the world of IT. Read on for all the details.


From the Executive...
It looks like we have settled into the 4th term very comfortably with all the new classes going well. I am sorry that we are going to have to disturb the peace by having the dreaded fire drills but they are one of those annoying necessities of life, or should I say WH&S. We are getting faster and faster which is good. Please remember that this time, the fire will be in the Craft Room and the assembly area is the playground car park at the East side of the building beyond the Creche.


For those people who went to the Centre Luncheon and enjoyed the amazing spread, I know you would like to thank Zoe and Michelle once again for their wonderful effort. I particularly enjoyed the chicken and corn soup and cheese scones. To all the people who contributed to the day, thank you so much.


We are going to lose a lot of key personnel at the end of this year or at the next AGM. This is going to leave the Centre desperately looking for people to fill those positions. The perfect solution would be two people sharing a job so if one were away the other could take over. A job shared is a job halved! If you feel you could do any of these jobs then please contact us. There will be a list later on in this Centre Talk.


As you may have noticed, we now have a Containers For Change bin and we would love it if you could contribute to the cause. More on that later in CT.


We have farewelled one of our most faithful and long lasting tutors, Fleur Reed, who is moving over East to join her family. Fleur has tutored knitting for far longer than I can remember and has kept her class informed on basic, complicated and new varieties of ways to knit. Her work at this year's Open Day was outstanding. Fleur will be very sorely missed. Let's hope she returns to the West to visit us.


Correction to Open Day figures - Total expenses should read $6,614.31.

The breakdown of the day:
Display Board Hire $1,870.00
Exchange Commissions $3,807.00
Your Coordinators - Bridget with Annie and Anne-Marie

The basics of safety on the Internet...
Join us for The Basics of Safety on the Internet presented by Roger Jennings on Friday 10 November, as part of The Centre Presents Speaker Series.

Join Roger as he explains what the internet is and how to navigate it safely without encountering viruses, scams and other nasties.

Roger began working with computers in 1969 and has been involved with them ever since. He has a wealth of knowledge to share as well as a few helpful videos along the way.

Please book and pay for your tickets for this event at the KCLC reception desk (unfortunately tickets are no longer available online for these events).
Cost: $5 (includes afternoon tea) to be paid at the Kalamunda Community Learning Centre reception to confirm attendance.
Booking deadline: Wednesday 8 November unless sold out prior.
Venue: Kalamunda Community Centre Hall.
Members and non members welcome!
Centre Presents Vacancy
Our 2023 Centre Presents programme has been very successful, with a range of speakers providing fascinating and informative talks. This has all been very capably organised by Kathryn Kinang. Unfortunately, Kathryn is not able to continue in her role in 2024.


So, we need someone to take on her job next year. The position requires organising speakers, liaising with our publicity team and managing afternoon teas. It could be quite easily divided up between two or even three people to lighten the workload.


Sound like you, and maybe some friends? Then please contact Margaret Davidson by emailing programmer@kclc.org.au or leave a message at reception and Margaret will get in touch with you.
Positions Vacant...
In addition to the position above, we also have a number of other vacancies that currently need to be filled ready for next year. If you have any interest in any of the following positions or would like further information, please email kclc@kclc.org.au or drop in and see us in the office.


Programmer, Work Group Leader, Secretary, Coordinator, Assistant Coordinator, Knitting Tutor, Scrap to Sculpture Tutor, Cooking Classes Tutor.
Date for your Diary...
The next KCLC General Meeting will be held at 1200 hrs on Friday 17 November 2023 in the Main Hall at the Kalamunda Community Centre.


Please look out for an email from Sally in the office in the coming weeks, with official notification of the General Meeting. It includes the meeting agenda and a copy of the KCLC By-Laws which have been updated. They will be presented for endorsement at the meeting.

Please click here to view previous minutes to both General and AGM meetings.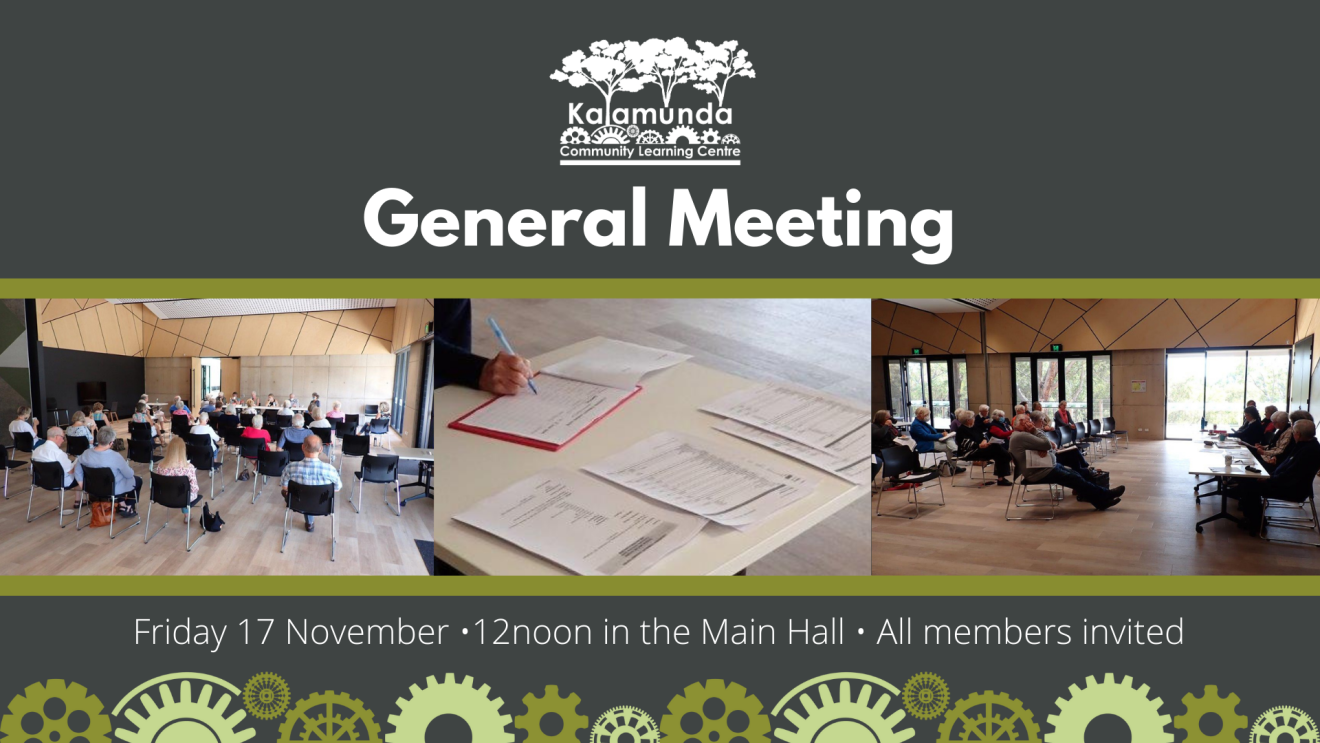 Fibre Art
I am very lucky to have talented people in my class who bring and share new ideas which inspire and challenge others to try them.


The results speak for themselves.


We hope you enjoy viewing our work in the display cabinet.


We are going to have a promotions week for Containers For Change from the Monday 30 October to Friday 3 November. We already have a green bin parked beside the reception desk with free sacks to take home. We would ask everyone to collect beer cans and bottles, soft drink cans and bottles, also cartons and water bottles. They will not take king brown beer bottles, wine bottles or milk cartons which can go in the ordinary recycle bin. Make sure the containers have the 10c mark on them before placing them in the green and white bin.

I know many of you have other members of your family who are also collecting containers for other causes but please, if you can, spare some for KCLC. We are hoping to raise funds mainly for the Creche.

The Joke...
Fear swept a city hospital's intensive care unit as patients always died in the same bed every Monday at 10am regardless of their medical problem. This concerned the doctors, some thinking it might have a supernatural cause. Word spread about this phenomenon. Experts from around the world gathered on a Monday to try to find a cause. Shortly before 10am they assembled, some holding crosses and Bibles to protect them from Satan. At the stroke of 10am in came the part-time cleaner, Doug. He made straight for the bed, unplugged the life support system and plugged in the vacuum cleaner...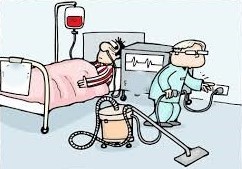 The Quiz...
Fill in the blank circles to complete the pyramid. The number in each circle is made up of the sum of the two numbers below it. To solve this puzzle, it will help you to know there are no zeros in it.